Bernedoodle Potty Training Made Easy: Tips and Tricks
Hey there, are you looking for some tips and tricks on how to make potty training your Bernedoodle easy? Well, if so, then you've come to the right place! In this article, I'm going to be talking about all the different ways that can help make this task a breeze. From understanding how their brains work and what motivates them to creating an environment conducive to learning; I'll show you just how simple it can be. So let's get started – read on for all my top tips!
The first thing we need to understand when it comes to successful toilet-training our furry friends is that they don't think like us humans do. They learn in a totally different way than we do and have completely different motivations from ours. It's important to recognize these differences when trying to teach them new behaviors as it will save us time, energy and frustration in the long run.
But with a bit of patience and effort on our part, teaching our Bernedoodles where they should go when nature calls doesn't have to be hard. By providing them with a welcoming space of their own along with positive reinforcement techniques such as treats or praise, we can set ourselves up for success in no time at all! All it takes is a little knowledge and practice – both of which I'm here to provide today. Ready? Let's dive into how best tackle Bernedoodle potty training made easy!
Definition And Characteristics Of A Bernedoodle
I love Bernedoodles! They're so adorable and cuddly, but they can also be a handful. That's why it's important to learn about their characteristics before bringing one home. Bernedoodles are a designer dog breed that is a cross between the Bernese Mountain Dog and the Poodle. This mix gives them an amazing coat that doesn't shed too much, making them perfect for people with allergies or those who just want a low-maintenance pup. Bernedoodles need plenty of exercise as well as positive reinforcements during obedience training and crate training in order to remain healthy and happy.
Potty training your Bernedoodle isn't always easy, but there are some tips and tricks you can use to make it go more smoothly. Start by teaching basic commands like sit, stay, come, down, etc., so that you have control over your pup when potty time comes around. Reward good behavior with treats or verbal praise when your pup goes outside at the right time. Finally, don't forget to take regular breaks from potty training if your pooch gets overwhelmed or frustrated – consistency is key!
Reasons For Early Potty Training Your Bernedoodle
Have you ever wondered why it is important to potty train your Bernedoodle early in life? Puppy house training and potty training are essential steps to ensure that your pup grows up into a well-behaved, obedient, and hygienic dog. But there are other reasons too! Let's look at some of them now.
First off, starting the puppy training process as soon as possible can help prevent any future issues with toilet habits. Early potty training ensures that puppies learn the basics quickly and easily so they don't develop bad habits later on. Additionally, teaching puppies the physical signs for when they need to relieve themselves will make their lives much easier in the long run. By learning this vital skill from an early age, your Bernedoodle won't have any accidents in inappropriate places or be overwhelmed when out of familiar surroundings.
Another key benefit of early potty training is that it allows you to establish positive reinforcement methods early on – such as giving treats whenever your pup goes to the bathroom outside – which will encourage good behavior throughout their lifetime. This type of reward system can also be used to reinforce commands like "sit," "stay," etc., making them more likely to obey these instructions over time. Finally, by understanding how best to address your Bernedoodle's needs right away, you'll be able to avoid frustration during the initial stages of puppyhood and create a strong bond between you both based on trust and respect.
Establishing Consistent Routines
When it comes to potty training your Bernedoodle, establishing consistent routines is key. Training tools such as crate training and verbal commands can help you create a routine that works for both you and your pup. As they learn their new rules of the house, be sure to reward them with positive behaviors when they do something right – this will reinforce good behavior. Designate one spot in the house where your Bernedoodle should go when needing to use the restroom. This could be outside or on pee pads inside if weather doesn't permit outdoor trips.
Furthermore, having set bed times helps your pup better understand what's expected of them during potty time. Make sure these times are consistent day after day so they know when it's okay to relieve themselves. With all these steps taken into account, you'll find that teaching your Bernedoodle how to properly use the bathroom won't take too long! Creating a schedule and sticking to it is essential for successful potty training; just remember, patience is paramount here!
Choosing The Right Potty Spot
Choosing the right potty spot for your Bernedoodle can be tricky. You want to make sure you find a place that's comfortable, but also one that helps them learn quickly and easily. One of the most important things to consider is where your pup will go when they need to relieve themselves. Toilet training your Bernedoodle requires finding just the right spot in order to ensure success.
Pick a spot away from where your family spends time together, like the living room or kitchen. This gives them their own special area which they'll begin associating with urination and defecation – it becomes almost sacred space! If possible, pick an outdoor location too; grass is great if available as it allows them to practice natural elimination habits while feeling safe and secure. Make sure this spot isn't close to other smells either- dogs rely heavily on scent so having something nearby could distract them making toilet training more difficult.
It's essential that everyone in the household understands these rules around potty spots – consistency is key here! Training should start early so that any confusion about correct spots can be avoided down the road. Your pup needs to know exactly what's expected of them and being clear on this from day one sets up good behavior patterns for years ahead. It may take some trial and error before you get it just right but keep at it – eventually you'll have a well-trained Bernedoodle who knows where (and when) its okay to do their business!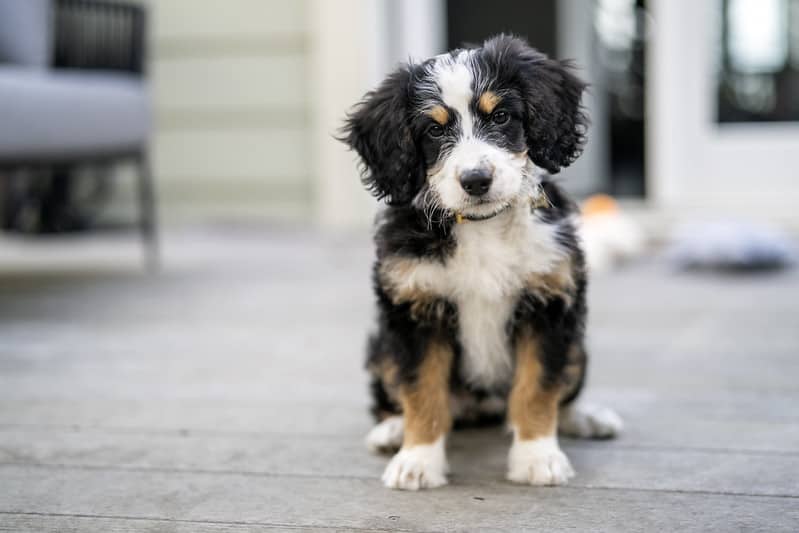 Reinforcing Good Behavior
Many people may be weary of training a Bernedoodle, as they are known to be very independent and intelligent. However, with the right combination of perseverance, verbal commands, and positive reinforcement you can easily train your Bernedoodle in no time.
When it comes to reinforcing good behavior for your pup, there are some key elements that must be taken into account:
Verbal Commands: When teaching your pup basic commands like 'sit', 'stay' and 'come', make sure to use consistent words or phrases each time. Your dog will learn faster if you always say "Stay" instead of sometimes saying "Don't move".
Bed On Command: Train your pup to go to its bed when commanded. This helps them understand what is expected from them during times when you need quiet from them in order to focus or rest yourself. The concept of going to their bed should become an automatic response whenever they hear the command word.
Positive Reinforcement: Rewarding your dog with treats or affection after they complete a task correctly is essential for good behavioral development. Giving rewards helps reinforce good behavior making it more likely that this behavior will continue in the future.
Bathroom Breaks: Make sure that you take regular bathroom breaks throughout the day so that your pup learns where it's okay to relieve itself without needing extra cleaning up afterwards! Doing this regularly allows your Bernedoodle puppy to develop bladder control which leads to less messes within the home environment.
Fantastic Family Dogs: With proper socialization early on and lots of love and attention from their owners, these dogs make fantastic family pets who provide companionship and unconditional love for years after adoption.
So don't let hesitation get in the way of having a happy furry friend; by investing quality time and effort into Bernedoodle potty training while reinforcing all the good behaviors along the way, both you and your beloved pet will benefit greatly over time!
Dealing With Accidents
Accidents are inevitable when potty training a Bernedoodle. It's important to remain patient, and not get angry at your pup if an accident happens. There are several methods for house-training solutions that you can choose from such as paper training or puppy pad training. The key is to be consistent with whichever method you select.
Paper training involves teaching your pup to use newspapers or other absorbent material placed in specific areas of the house where accidents may occur. If they have an accident on the newspaper, provide positive reinforcement when they eliminate there again next time by giving them treats. Puppy pads offer another excellent solution for housebreaking a Bernedoodle. These specialized pads contain attractants that help encourage puppies to urinate in designated areas rather than anywhere else in the home. Praise and reward should be given each time your pup eliminates successfully on their potty pad to reinforce good behavior and ensure future success!
The Benefits Of Crate Training
Crate training is one of the most effective ways to potty train your Bernedoodle puppy. It can be daunting at first, but with a few simple steps and some patience, it won't take long for you and your pup to get into the groove. To put it bluntly, crate training will save you time and energy in the long run.
The idea behind crate training is that puppies don't like having accidents inside their crates – they view them as safe spaces! This means that if you keep your pup confined while they are learning (and even after they have mastered potty training), then they will naturally avoid using the bathroom anywhere else inside the house. You can use things such as puppy pads or puppy poo in order to encourage them not to go outside of their designated space. Additionally, clicker training may come in handy when teaching your Bernedoodle how and where to do their business!
This type of potty-training also helps establish boundaries between your pet and other areas of your home; by restricting access to certain places in which he/she cannot relieve themselves, you create an environment wherein your pup better understands what is acceptable behavior and what isn't. With this method, there's no need for extensive cleaning or worrying about unexpected messes — just a clear line drawn between where pups can play and where they must stay contained. Ultimately, crate training provides both structure and discipline that allows owners peace of mind knowing that their furry friend has been given ample opportunity to learn good habits without making any mistakes along the way.
Puppy Training Pads
Now that we've covered the basics of crate training, let's move on to puppy training pads. The Puppy Training Triangle is a great way to help your pup potty train faster and more efficiently. It involves breaking down potty-training into three main components: temporal signs, physical cues, and rewards. This triangle helps establish an understanding between you and your pup about when it's time to go outside for a bathroom break – something dogs can pick up very quickly!
You may also want to look into purchasing a potty-training device like those offered by the Puppy Training Institute. These devices come in various shapes and sizes, but all work towards the same goal: getting your pup used to using a designated area for bathroom breaks. By setting one of these up in your home, you're helping create structure and consistency in their routine which will make potty-training much easier overall. Remember not to expect too much from them at once though; puppies learn best when they're given consistent reinforcement throughout multiple training sessions per week. With patience and practice, your pup will soon be using their designated area with ease!
Scheduling Regular Potty Breaks
Training your Bernedoodle puppy can be like taming a wild horse; it takes patience, commitment and consistency. It's important to establish regular potty breaks throughout the day for successful potty training. Just like us, dogs need scheduled bathroom times in order to make good habits. Scheduling these potty breaks will help create an environment where they know when and where they should go before they do anything else!
Start by setting up an indoor dog toilet with artificial grass which makes it easier for your pup to learn how to use the restroom on their own. Make sure that this designated spot is not too far from his bedding area so he won't have a hard time finding it when he needs to go. Give him plenty of praise every time he goes successfully in the right place. Then, try taking him out at specific times during the day such as after meals or first thing in the morning and last thing at night, until he gets used to going outside instead of inside your home. With enough repetition and positive reinforcement, soon you'll see that your Bernedoodle puppy has become accustomed to his new routine and understands exactly what you expect from him!
Utilizing Positive Reinforcement
Using positive reinforcement is a great way to get your Bernedoodle puppy potty trained in no time. It's important to note that the training process can be lengthy and require many hours of dedication from you, but with consistent practice it will pay off! Positive reinforcement works by rewarding your pup after they have gone in the correct spot – this helps them learn where they should go when they need to eliminate. You'll want to start with smaller rewards, such as treats or verbal praise, then gradually increase their reward size over several weeks of training.
Puppies for sale may come pre-trained, but if not utilizing positive reinforcement during the course of housebreaking your new pup is essential. This method allows you to create a clear system of rules and expectations while also teaching desirable behaviors. As you provide rewards throughout the process, your dog will begin associating good behavior with something pleasant which encourages them to repeat those behaviors more often. With patience and persistence you'll find that soon enough your Bernedoodle pup has become completely potty trained!
Setting Rules And Boundaries
Setting rules and boundaries is essential when it comes to potty training your Bernedoodle. It's important to provide a consistent, positive environment for them as they learn how to use the litter box or go outside. Establishing clear expectations from the start will help make potty training much easier for both you and your pup!
There are several tips that can be helpful in this process: First, set up habits around going out or using the litter box at specific times of day. For example, if you're trying to get your dog used to going outside, try taking them out first thing in the morning before breakfast and right after dinner each night. This consistency helps reinforce the idea that it's time to "go" every day at those particular times. Additionally, if you live in an apartment rather than a house, consider getting a puppy pad or some other type of effective potty-training device. Setting these boundaries from time will help ensure success more quickly with less messes along the way! Additional resources may be found at the AKC site.
Whenever possible reward good behavior with treats or special attention – this encourages them to continue doing what works. On the flip side, don't give into bad behavior like begging for food; instead remain firm about not rewarding them until they've done something correctly (like peeing/pooping on their designated spot). Doing so will let your Bernedoodle know that there are consequences for misbehavior and rewards for following instructions – which is key when setting up successful potty-training rules!
Understanding Your Dog's Body Language
As pet owners, we know that understanding our Bernedoodle's body language is essential to successful potty training. After all, it's one of the best ways to let your pup communicate what they need and want—especially when it comes to toilet training. From sleepy yawns to excited tail wags, getting familiar with your dog's body language will help you understand them better and start potty training in no time.
When watching for signs of toilet needs from your puppy, keep an eye out for sniffing around the house or scratching at the door. These are surefire indicators that your pup needs a quick visit outside! It can also be helpful to establish a designated "toilet spot" in your backyard where you bring your bernese mountain dog each time so they begin associating this area with their bathroom habits. Additionally, watch for signs like pacing back and forth or circling as these may signify discomfort or anxiety due to needing to go too badly!
It's important not to underestimate how much communication you will get from observing your pup's body language. Understanding subtle clues such as ears pinned back, eyes wide open or panting heavily can give you insight into how well they're responding to their new environment – whether it leads to sleepless nights or perfectly clean carpets! With patience and practice, both you and your canine companion will soon be on the same page regarding appropriate toileting behaviour – leading towards less messes in the long run.
Potty Training Tips During Traveling
Traveling with a Bernedoodle can be an exciting adventure or stressful ordeal, depending on how much potty training they have had. To ensure the best experience, it's important to put your pup through extensive training before taking them out into the world. Here are some tips and tricks for successfully potty training your Bernedoodle when you're traveling:
Make sure to take plenty of outdoor trips in different environments prior to leaving on a trip. This will help your pup become familiarized with their new environment and make it easier for them to recognize where they should go when nature calls.
Bring along treats whenever possible to reward successful bathroom breaks outside. Your Bernedoodle will learn that going outdoors is rewarded and start avoiding accidents indoors!
Allow enough time during each stop so your pup has ample opportunity to do their business. If they don't have enough time, then they may not feel comfortable enough to relieve themselves while on the move.
Take multiple field trips throughout the day if possible. This gives your pup more opportunities to empty their bladder and prevents any potential messes from occurring inside the vehicle!
You'll want to make sure you're prepared for all kinds of scenarios as you travel with your Bernedoodle – even those involving accidents – but by following these tips, you can reduce the amount of stress involved with potty training while on-the-go! With just a bit of preparation ahead of time, you'll be ready for any situation that might arise during your travels with Fido by your side.
Managing Separation Anxiety Issues
Separation anxiety is a common issue for Bernedoodles, and it can be difficult to manage. It's like trying to herd cats– you think you have them all together but then one goes off in an unexpected direction! Fortunately, there are some basic tricks and advanced tactics that can help tame this anxious behavior.
A crate at night can work wonders when managing separation anxiety issues. Your pup will feel safe, secure and cozy while the rest of your home remains free from destruction or accidents. An indoor doggie bathroom also helps with those times when they just need to go but you aren't available to take them outside. The key is consistency—establishing routines which makes it easier for them (and you!) to remember what behaviors are expected every time.
In terms of training tips for separation anxiety, start small with basics such as rewarding good behavior whenever possible; set up regular playtime activities so they get plenty of exercise; keep treats handy for positive reinforcement; and provide lots of praise! For more advanced techniques, try using distraction strategies like hiding toys around the house or letting them listen to calming music during nap time. You can even turn on their favorite TV show if necessary! With patience and persistence these tactics should help reduce any unwanted reactions due to separation distress.
Avoiding Common Mistakes
Now that we've discussed managing separation anxiety issues, let's dive into some common mistakes when it comes to potty training your Bernedoodle. To ensure your pup's training for success, avoid the following:
Not being active in their training – A successful potty training experience requires an active role from you! Make sure to be present and consistent throughout the process to help reinforce positive behavior.
Skipping nap time – Naps are important for growing pups! As a puppy grows, they will become more aware of their need to go outside and take care of business. If they miss out on their naps, this can lead to accidents inside the house due to lack of awareness or control over their bladder.
Being too aggressive with them – Yelling at your pup or punishing them aggressively will only make things worse. This could cause confusion and distress which could then manifest as aggression towards humans or other animals. Be patient and understanding instead; reward good behavior with treats, toys, and praise rather than punishment.
Spot-training – Don't try spot-training unless you know what you're doing – this is not recommended for beginners! Spot-training involves placing specific mats around areas where you want your pup to eliminate so that they can associate those places with going potty without fail. However, if done wrong it may actually have the opposite effect causing confusion and stress instead of eliminating habits like peeing indoors or marking furniture.
Frequently Asked Questions
What Age Should I Begin Potty Training My Bernedoodle?
When it comes to potty training a Bernedoodle, there's no one-size-fits-all answer. It all depends on the individual dog and their learning abilities! Generally speaking, most puppies are ready to start potty training around six months old. Of course, this is just an estimate – some pups may be ready earlier or later.
It's important to remember that potty training should be a fun experience for your pup. The key is to make sure they associate going outside with something positive like treats or praise. Start small by taking them out often and rewarding them when they go in the right spot. As they get used to the routine, you can gradually increase the amount of time between trips outside until they have mastered it completely.
Potty training takes patience, consistency and lots of love – but if you stick with it, you'll soon have a fully housebroken pup! With plenty of practice and reward-based reinforcement, your Bernedoodle will learn quickly and be well on their way to becoming a well behaved member of the family before you know it!
Is It Normal For A Bernedoodle To Have Accidents After Being Potty Trained?
It's natural for any pet owner to worry when their pup has accidents after potty training. Is this normal? Yes, it is. Bernedoodle puppies can be prone to having occasional slips even after the potty-training process is complete.
There could be a few different reasons why your pup may have an accident from time to time. They might not yet know how to alert you that they need to go outside or just simply forgot where it's safe to do so. It could also be due to stress or excitement as well as changes in routine, diet, and environment. Ultimately, these are all areas for which owners should pay close attention in order to help prevent future occurrences of unwanted bathroom habits.
The best way to handle such incidents is with patience and understanding while reinforcing good behavior through positive reinforcement methods like treats or praise whenever your pup goes outdoors correctly. Likewise, if you catch them going indoors make sure they understand the mistake by using a stern voice before redirecting them outside again soon thereafter. Establishing clear boundaries early on will ensure your Bernedoodle knows what's expected of them so both of you can enjoy many happy years together without the added hassle of frequent potty troubles!
What Is The Best Way To Manage Separation Anxiety In My Bernedoodle?
Separation anxiety can be a real challenge for owners of Bernedoodles. We all want our furry friends to feel secure and happy, so it's important to know how to manage this common issue. The best way to manage separation anxiety in your Bernedoodle is by providing them with plenty of training, attention, and exercise.
Start by establishing a routine that includes regular walks and playtime each day. This will help create a sense of structure and security for your pup. Additionally, try using calming music or scents like lavender when you're away from home to reduce their stress levels while they're alone. Also make sure to reward them whenever they follow commands or stay calm during stressful situations; positive reinforcement can go a long way! Finally, consider speaking with a professional if these strategies don't seem to work as it could be more serious than just simple anxiousness. With the right approach and patience, managing separation anxiety in your Bernedoodle doesn't have to be difficult – they are sure to become happier and healthier companions with time!
How Often Should I Take My Bernedoodle Outside For Potty Breaks?
Potty training your Bernedoodle can be a challenging but rewarding process. But how often should you take your pup outside for potty breaks? Taking them out too little or too much could actually hinder the progress of their potty-training, so it is important to find that balance. Here are some tips and tricks to help you manage your Bernedoodle's potty schedule:
Establish a routine – Setting up an established bathroom break schedule can make all the difference in successful potty training. Take your dog outside at regular intervals throughout the day such as first thing in the morning, after meals, before bedtime and often during play time. This will create consistency, making it easier for both you and your pup to understand when they need to go.
Watch for signs – Pay close attention to body language cues from your Bernedoodle while indoors that indicate they may need to go out soon; sniffing around, circling or complaining might mean they have to go pee! Make sure not to wait until these signals appear as this could lead to accidents inside.
Be patient – Training any puppy takes time and patience, so don't expect perfection overnight! Keep in mind that puppies generally have very small bladders and won't be able to hold their business for extended periods of time, especially if they are young. With consistent effort on both parts, however, you'll find success eventually!
By following these easy steps, managing your pup's potty schedule should become more manageable over time. The key is finding what works best for you and your pet – no two dogs learn the same way! And remember not to scold or punish them if there are any accidents along the way; with positive reinforcement methods like praise and treats, housebreaking can be made a whole lot easier.
Is Crate Training Necessary For Bernedoodle Potty Training?
Crate training is an important consideration when it comes to potty-training your Bernedoodle. It helps keep them comfortable in their own space, and lets you know exactly where they are at all times. But is it necessary? That depends on the individual dog and situation.
If your Bernedoodle enjoys being enclosed within a crate, then this could certainly help with housebreaking. Crate training can give your pup a safe place to go when they need some downtime or just want to be alone. Dogs may also feel more secure knowing that there's a designated spot for them – one that belongs only to them! Additionally, having a consistent area for sleep can help establish better sleeping habits and routines which will make transitioning into potty training easier.
One of the biggest benefits of using crates for housebreaking is that you'll be able to observe your puppy as he learns proper bathroom etiquette without getting distracted by other things around him. You won't have to worry about him destroying furniture or making messes while he's learning either! On top of that, since dogs don't like relieving themselves in the same areas they sleep in, having a dedicated crate will encourage him not to 'go' inside his home.
It's up to you whether or not crate training makes sense for your Bernedoodle – no two pups are alike! If used correctly and consistently, though, it can be an effective tool in helping teach good potty habits from the start. Ultimately, if done right, both you and your furry friend should benefit from this process!
Conclusion
It is no secret that potty training a Bernedoodle can be quite the challenge. But with patience, dedication and consistency, you will soon have a well-trained pup who knows when it's time to go outside for their business!
Having an understanding of your pet's age, temperament and any other factors at play will help make the journey easier. Separation anxiety may also arise during this process but don't be afraid to ask for help if needed. Remember to take your Bernedoodle outside frequently for potty breaks in order for them to get accustomed to their new routine and crate training might just be the key ingredient in getting closer to success.
By following these tips, tricks and techniques – coupled with plenty of love and positive reinforcement – you'll find yourself on the path towards smooth sailing with your Bernedoodle's potty training! So keep up the good work and enjoy watching as your little one grows into a responsible canine member of society!
Featured image:"Sadie" by Christopher.Michel is licensed under CC BY 2.0.