Crate Training and Separation Anxiety in Dogs: Tips and Techniques
Are you struggling with crate training and separation anxiety in your pup? It can be a real challenge, but it doesn't have to be. With the right tips and techniques, you can take control of this situation and help your canine companion feel better about being alone. This article will provide helpful advice for dealing with these issues so that both you and your furry four-legged friend are happy.
This article covers the fundamentals of crate training to alleviate separation anxiety in dogs. Additionally, it provides advice on ensuring comfort for crated dogs both indoors and outdoors. Understanding our pets' requirements enables us to establish a secure and happy atmosphere for all parties.
Definition Of Crate Training
Crate training is an effective way of teaching a dog obedience and structure, and can help reduce or eliminate destructive behaviors caused by separation anxiety. It involves providing the dog with its own safe space, such as a crate, where it can retreat when feeling anxious or overwhelmed. This helps create positive experiences for both pet owner and pup during times of stress or transition. Crate time should be enjoyable and structured in order to prevent any negative associations from forming between your pup and their crate.
When done properly, crate training will teach your pup to view their kennel as a comfortable spot that they are free to come out of whenever desired. To do this effectively requires plenty of patience, consistency, and commitment on the part of you as the trainer. Training sessions should include food-based rewards, verbal praise, and lots of love! With proper guidance and practice, dogs will eventually learn to appreciate spending time in their crates without distress.
Understanding A Dog's Anxiety
It is important to understand a dog's anxiety before attempting crate training. Separation Anxiety occurs when a pet has an excessive fear of being left alone, which can result in destructive behaviors such as barking, howling and digging around the house. It's essential for owners to be aware of the signs and symptoms of canine anxiety so that they can take appropriate steps to address it.
Here are 4 tips on understanding your pup's separation anxiety:
Look out for the common signs of distress when you leave them home alone, like barking or whining excessively;
Pay attention to any changes in behavior – if they become anxious or stressed during certain activities;
Ask your vet about your pup's medical history – illnesses or medications may play a role in their anxiety levels;
Contact an animal behaviorist who specializes in treating canine separation anxiety issues. They will help create tailored strategies based on your pup's individual needs.
Providing comfort and security at all times is key for successful crate training with dogs suffering from separation anxiety issues. Crate training should not be used as punishment but rather as part of a treatment plan designed by an experienced professional to help manage this condition properly over time. With patience, consistency and continual support from owners, these pups can overcome their fears and lead happy lives!
Preparing The Crate
When it comes to crate training and separation anxiety in dogs, preparation is key. Before you begin any type of true behavior modification for your pup, you must make sure the conditions are just right. This means making sure their crate has been properly prepared. Not only will this help with the development of separation anxiety but also preventing any unwanted behaviors from taking shape while they're restricted to being inside the cage.
The first step when prepping a dog's crate is by ensuring its size is correct; too big a space can lead to increased comfort levels that may impede progress in dealing with anxiousness or other behavioral issues. Next, be sure to introduce interesting toys and treats as distractions – these can be used during crate training games like fetching items outside of the pen or simply keeping them occupied while alone- so that they don't become bored easily within their confinement.
Lastly, ensure that all comforts necessary such as comfortable bedding and plenty of water are included when readying the area for use. Doing this helps create an environment where both physical and emotional needs can be met throughout the process of conditioning.
Crate readiness is essential if owners wish to truly control specific aspects of canine behaviour via proper training techniques. Taking time now ensures better results later on down the line when tackling those more difficult psychological challenges associated with separation anxiety and fear related problems which often require long term solutions in order to achieve success for pet owners everywhere.
Introducing Your Dog To The Crate
So, how do you go about introducing your dog to the crate? Well, that's a good question! Crate training and separation anxiety in dogs requires patience and consistency. Through behavior modification techniques such as positive reinforcement, regular visits to doggy daycares, food treats or simulated separation anxiety sessions, gradually introducing them to the crate can be done over time with great success.
Let's look at some of these methods more closely: Positive reinforcement is an important part of any successful training program for dogs suffering from separation anxiety. The idea here is to reward desirable behaviors with verbal praise or treats – whatever works best for your pet. This will help create an association between the desired behavior and being rewarded for it which can make it easier for them to learn new things and cope better when they are left alone.
| Method | Advantages | Disadvantages |
| --- | --- | --- |
| Positive Reinforcement | Helps build trust between human/dog; strengthens bond; helps reduce stress levels in anxious pets | Can be difficult to master; needs consistent application; may not work well on all types of animals |
| Doggy Daycares | Good socialization opportunities; allows pets to interact with other animals safely; supervised playtime reduces boredom & increases mental stimulation | May require extensive travel if far away from home; can be expensive depending on location & duration of stay |
| Food Treats/Simulated Separation Anxiety Sessions | Simple yet effective way of providing comfort during times of distress ; food rewards provide motivation & give pleasure while reducing stress levels in their owners' absence | Not recommended if dog has allergies or health concerns related to diet; should only used occasionally as too many treats can lead to weight gain and associated risks |
These different approaches each have advantages and disadvantages but ultimately it comes down to what works best for both you and your pet. No matter which method you choose, remember that it takes time and patience – so don't rush the process! With enough love, care, and understanding you can successfully train your pup using these tips and techniques.
Establishing A Routine
Establishing a routine is key when it comes to crate training and managing separation anxiety in dogs. A daily routine should include regular times for meals, walks, playtime, and sleep. Dogs thrive on consistency so try your best to stick to the schedule you've set out for them. Setting up a reliable walking regimen will help reduce excessive barking or destructive behavior that can be caused by separation anxiety.
In addition to establishing a consistent daily routine, consider adding some fun activities into the mix such as a treat game or other interactive activity with your pup's favorite toy or soft treats. This will not only provide mental stimulation but also show your dog that they are loved! Training measures like positive reinforcement need to be implemented consistently in order to keep progress going and maintain good behavior habits – this includes rewarding good behaviors with praise and affection rather than food rewards alone.
It pays off in the long run if you take the time to establish a healthy and happy environment for both you and your furry friend. As pet owners, we have an obligation to ensure our canine companions feel safe and secure while living under our roof; developing effective strategies for dealing with separation anxiety from crate training can make all the difference in achieving success.
Signs Of Separation Anxiety In Dogs
After establishing a routine, it is important to recognize the signs of separation anxiety in dogs. Dogs are social animals and can become distressed when their usual companion suddenly disappears. True separation anxiety occurs when a dog experiences intense distress at the absence of its owner or family members. Puppy separation anxiety is common as they adjust to life without their littermates. Signs that your pup may be suffering from this condition include destructive behavior, barking, whining, pacing, panting and restlessness. In more extreme cases there could even be an increase in incidents of urination or defecation indoors.
It's important for pet owners to identify these behaviors early on so that with proper training and support, the anxious feelings can be managed before behavior issues become too severe. As well as physical signs of distress such as barking and destruction of furniture, you should also look out for subtle signs of stress; excessive grooming or licking themselves which results in bald patches on their fur, refusing meals due to lack of appetite or shaking/trembling when left alone.
If any of these symptoms occur after separating from your pet, then it is likely they are experiencing true separation anxiety rather than just being bored or missing you while away. With patience and consistency during crate training sessions, you will help ease your pup into a calmer state and reduce his stress levels associated with being apart from you.
Desensitizing Techniques
Desensitizing techniques are a key component of crate training and overcoming separation anxiety in dogs. Through desensitization, we can help our pets learn to be comfortable and relaxed when being left alone for short periods of time. Here are some tips on how to go about it:
Create a desensitization training plan that gradually increases the length of time your dog is crated with you not present. Start off slowly by having your dog sit inside the crate while you're around, then slowly increase the amount of time until your dog is able to stay in the crate comfortably for longer stretches.
Use anti anxiety medications if necessary to reduce stress levels during this process. This should only be done under veterinary supervision, but these drugs can be very helpful in reducing negative behaviors associated with separation anxiety.
Play games like hide-and-seek or fetch near the crate as part of their training regimen – reward your pup every time they enter their cage willingly! This will allow them to associate positive experiences with being in their space, which over time will become less daunting and more enjoyable for them.
Bust common myths surrounding crate training such as "they'll feel abandoned" or "they won't be getting enough exercise". These beliefs can lead people away from using crates successfully; however, done through proper methods, crates provide an invaluable tool for helping pups overcome separation anxiety issues.
Crate Training has proven itself effective at providing relief from separation anxiety symptoms in many different breeds and individual dogs. With patience and consistency – along with the right tools – owners can reduce their pet's stress levels significantly without resorting to harsh punishments or extended isolation times outside of supervised playtime activities.
Counter-Conditioning Strategies
The sun beats down on a quiet suburban street, and the birds chirp in the distance. In one house sits a furry friend with mild separation anxiety; he's been learning how to manage it through counter-conditioning strategies. With physical contact, like cuddling and petting, his owner has begun teaching him that being apart isn't so scary after all.
To reinforce this idea of comfort during separation, treats are used as rewards for good behavior when away from home. Peanut butter is often spread inside an empty toy or Kong for extra stimulation. Drug therapy may also be prescribed by veterinarians if needed to reduce stress levels and help dogs cope better with their anxiety.
With time and patience, desensitization methods combined with crate training can lead to successful results. Introducing new games like hide and seek encourages positive behaviors while prolonging any periods of solitude. Through these techniques, owners can teach their fur babies that they don't always have to be together – but when they are reunited again, it will be just as special as ever!
Medications For Severe Cases
When it comes to treating separation anxiety in dogs, there are excellent options, especially when the situation is severe. Anxiety in dogs can be managed with behavior medications prescribed by animal behavior experts. These professionals will use their experience and skillset to determine whether a full-blown separation anxiety exists and if medication should be used as part of the overall treatment plan.
When faced with severe separation anxiety, prescription medications may help reduce symptoms so that training methods can be applied effectively. It's important to note that these medications are not meant to provide a cure – rather they are tools which enable owners and trainers to get through the difficult moments while strengthening existing coping mechanisms within the dog's mind. In any case, pet owners must always consult an experienced veterinarian before administering any sort of pet medication.
Long-Term Management
"It takes two to tango," and the same is true in managing separation anxiety. Crate training, desensitization, life experiences and basic obedience techniques are all necessary components of successfully addressing long-term management of the condition:
Establish a consistent routine for crate training and spending time together that includes fun activities.
Provide plenty of positive reinforcement when your dog behaves appropriately during times of separation so it knows what behavior is expected from them.
Make sure to provide adequate exercise opportunities outside of the house as well as indoors – this will help expend extra energy as well as build confidence.
Continue with basic obedience exercises such as sit/stay, down/stay and come when called on a regular basis to ensure that these commands remain strong even when there is no one around.
Spend quality time each day engaging your pup in activities they enjoy doing; play fetch or tug-of-war, practice tricks you've been teaching them or go out exploring new places together!
These tips can help manage separation anxiety long-term while also providing an opportunity for caretakers to bond with their pet in ways that make both parties feel secure and connected. Ultimately, successful treatment requires patience, consistency, love and dedication on behalf of owners but with the right strategy in place success can be achieved over time.
Frequently Asked Questions
Do you have questions about crate training and separation anxiety in dogs? We've got answers! Many pet owners worry that their pup's anxious behavior is a sign of something serious, but the truth is it could be easily managed. The first step to addressing this issue is getting an accurate diagnosis of your dog's separation anxiety. Then, you'll need to understand what causes distress behaviors like excessive salivation or destructive chewing. To do this, we must dispel some common dog training myths – such as "crate training will make my pup feel trapped"- and instead focus on positive reinforcement techniques.
Crate training games are one way to provide mental stimulation for your canine companion while keeping them safe from harm when left alone. Adaptil collars can also help reduce stress levels by releasing calming pheromones during times of fear or excitement. All these methods can ensure that your pooch stays relaxed and happy even when they're separated from you. So don't wait any longer: start helping your furry friend manage their separation anxiety today!
Frequently Asked Questions
How Long Should My Dog Be In The Crate Each Day?
Dogs are beloved companions, so it's important to ensure they have the best life possible. When it comes to crate training and separation anxiety, an essential question arises: Just how long should a pup stay in their kennel? To answer this inquiry, owners must think about their canine companion's individual needs and comfort levels.
Like any living creature, dogs need time out of confinement now and then. The amount of time can vary depending on each pet's age, size, and personality. For instance, puppies may not be able to handle more than two or three hours at first before needing some outdoor playtime with their humans; whereas adult pups might be okay with eight hours in their crates while supervised if necessary. As a general rule of thumb though, most doggos will appreciate no longer than six hours in their confines during the day – especially when left alone – as too much time can cause them anxiety or distress.
It is therefore advisable that owners begin by setting achievable limits for their furry friends from the start. Setting boundaries can also provide structure which allows dogs to feel safe and secure throughout the entire process since it gives them something predictable to rely on regardless of what else is going on around them. Additionally, positive reinforcement techniques such as rewards for good behavior during crate training sessions help build trust between pets and guardians alike; thus creating strong bonds within households where everyone feels contented and fulfilled – even when Fido has been confined for lengthy timespans!
How Do I Know If My Dog Is Suffering From Separation Anxiety?
Knowing when your dog is suffering from separation anxiety can be a tricky task. It's important to understand the signs of this disorder, and the best way to do so is by observing how your pup behaves when left alone. Does he bark incessantly? Pace around anxiously or display other destructive behaviors such as chewing furniture? These are all common indicators that your furry friend may be feeling anxious when left alone.
It's also important to note any changes in his sleep patterns; if you notice that your pup has difficulty sleeping while you're away, then it could mean he's having trouble coping with being alone. Additionally, watch out for excessive panting or drooling which can indicate stress or fear. If you observe these behaviors consistently over time, then it might be wise to seek professional help from an animal behaviorist who can provide guidance on how to manage your dog's separation anxiety.
By understanding the warning signs of this condition, owners can take steps towards helping their dogs feel more comfortable and secure when they're apart from them. With some patience and practice, both pet and parent will soon find themselves enjoying quality time together again!
What Can I Do If My Dog Is Not Responding To Desensitizing Techniques?
If your dog is not responding to desensitizing techniques for separation anxiety, it can be a difficult and frustrating situation. But understanding the underlying causes of their behavior can help you find solutions that work best for them. We know from research that dogs with separation anxiety are more likely to show signs of distress when left alone than those without. It could be related to genetics or early life experiences, such as being taken away from their littermates too soon. Regardless, we must recognize that our four-legged friends need special attention and care in order to overcome this issue successfully.
It's important to remember that desensitization techniques won't always work right away and may take some time before they become effective. A good place to start is by teaching your pup how to cope with short periods of solitude through positive reinforcement training. This involves rewarding them with treats or praise whenever they stay calm while being left alone, gradually increasing the amount of time until they are able to tolerate longer intervals on their own comfortably. Additionally, providing enriching activities like puzzle toys filled with food can help keep their mind occupied during these moments so they don't feel anxious or stressed out due to lack of stimulation.
Ultimately, patience and careful observation will be key in figuring out what works for your pet and helping them overcome separation anxiety issues once and for all! With love, consistency, and understanding – there's no doubt you'll eventually get them feeling better about spending time apart from you again!
Is There A Risk Of My Dog Developing A Phobia Of The Crate?
When it comes to crate training and separation anxiety in dogs, many owners are concerned that their pup may develop a phobia of the crate. While some degree of fear is normal, there could be an underlying issue causing your pup's behavior.
To ensure success with desensitizing techniques, here are 3 important steps:
Start Slow: Gradually introduce your dog to the crate by feeding them treats near it before gradually moving into it.
Use Positive Reinforcement: Reward your pup whenever they show signs of feeling comfortable around the crate or take a step inside.
Monitor Progress: Keep track of how long your pup can stay in the crate without becoming anxious or fearful.
It's natural for pups to feel uncomfortable when first exposed to something new like a crate — especially if they have existing fears or anxieties. In order to help prevent any further issues from arising, consider providing plenty of distractions such as puzzles or chew toys while using positive reinforcement methods such as verbal praise and treats during each session. As you continue on this process, keep monitoring progress and adjust accordingly depending on how well your pup responds to each technique. With patience and consistent effort, you'll eventually reach a point where your pup will become accustomed to being in the crate without distress.
How Soon Can I Expect To See Results With Counter-Conditioning Strategies?
When it comes to crate training and separation anxiety in dogs, many pet owners wonder how long it will take for their pup to start responding positively to counter-conditioning strategies. The key is patience and consistency; with the right approach, you can expect results within a few weeks.
Counter-conditioning your dog involves gradually introducing them to their crate or kennel while associating positive experiences with it such as treats, toys, playtime, and cuddles. This process helps create an environment of trust between you and your pup so they don't become anxious when left alone. It's important that you stick to a consistent routine and spend at least 10 minutes of quality time with them each day. During this period, focus on teaching basic commands like 'sit', 'stay' and 'come' which can help reduce stress levels over time. Additionally, make sure to reward good behaviour whenever possible as rewards are an effective way of reinforcing desirable behaviours.
With these techniques in mind and sufficient effort put into establishing a trusting relationship between owner and pet, progress should be seen within just a few weeks – although some more difficult cases may require longer periods of conditioning before any real change is observed. Regardless of the situation however, by investing in counter-conditioning methods early on, you're giving yourself the best chance of success down the line – helping ensure that all members of the family remain happy!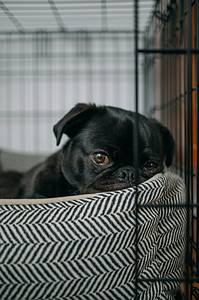 Conclusion
At the end of all this, it's important to remember that crate training and managing separation anxiety in dogs is not a one-size-fits-all solution; every dog and situation is different. That said, taking the time to understand your pup's individual needs can go a long way toward creating an environment where they feel safe, secure, and happy when you're away from home.
One interesting statistic? According to recent studies, over 70% of owners who have used counterconditioning techniques
reported positive results within two weeks. This shows us that with patience and consistency, we can help our dogs learn how to cope with their anxieties without resorting to more extreme measures.
In conclusion, by utilizing crates in conjunction with desensitizing exercises, counter conditioning strategies, and other forms of behavioral modification, I'm sure you'll be able to create an enjoyable experience for both yourself and your pup while addressing any existing issues related to separation anxiety.
Featured image Photo by Ayla Verschueren on Unsplash